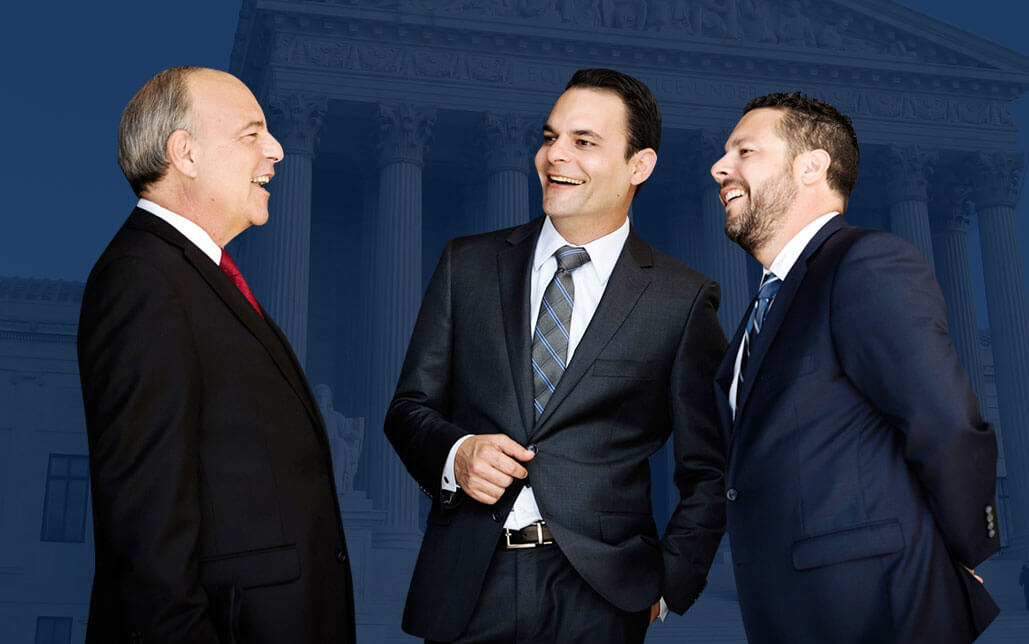 Barry Law Group
About the Firm
In 1988, Steven Barry opened his own law practice with a commitment to provide injured workers in California first-rate legal representation with passion, commitment, and integrity. Over 30 years later, he has continued to honor his commitment each day by zealously representing injured workers, with an emphasis on public safety employees. In 2015, Steven's son, Jonathan Barry, joined the practice. In January 2016, Steven's son, Jared Barry, joined to form Barry Law Group, a boutique litigation firm.
Barry Law Group Is Committed to Protecting Your Rights
Barry Law Group is comprised of attorneys and staff who are committed to the success of your legal matter. The firm understands that, for most, litigation is uncharted, worrisome, and often terrifying. Barry Law Group's attorneys and staff aim to pursue the best strategy on behalf of their clients, but also believe educating their clients about the process of their legal matters reduces anxieties inherent in legal disputes and litigation. The attorneys of Barry Law Group help their clients assess the probabilities of success, settlement, and critical cost-benefit factors at each step of their legal dispute. If litigation becomes necessary, Barry Law Group has experience in all phases of the pretrial, trial, and appellate practice.
Barry Law Group's attorneys and longtime staff members are experienced, diligent and committed to the success of your legal matters. As a family-owned boutique firm, we provide clients with personalized and dedicated service they deserve. Barry Law Group is selective about the cases it handles to ensure comprehensive attention is given to each of its legal matters. It's about more than just practicing law; it's helping people and making a difference. For years, Barry Law Group has produced a winning formula and achieved among the highest of client satisfaction ratings.
Highest Quality Representation
Barry Law Group has a broad-based litigation practice focused on the highest standards of legal representation. Our firm represents clients in a variety of injury claims, including workers' compensation, motor vehicle accidents, premises liability claims (slip and fall) and disability pensions. We are proud to specialize in representing injured public safety workers, including firefighters, police officers, paramedics, and other public safety employees who have been injured on the job.
Barry Law Group's expertise in litigation expands to other critical areas, including estate and trust litigation, real estate disputes and business controversies of all kinds. In addition, Barry Law Group assists fiduciaries, including family members, navigate post-death administration of trusts and estates. We provide the highest quality legal representation in all these areas.
We will work tirelessly to get you the best results possible.
Our Core Values
Unmatched dedication: We are dedicated to representing our clients with passion, commitment, and integrity.
Top legal strategies: We will pursue the best strategy specifically tailored to your unique legal needs and personal circumstances.
Impeccable performance: We have a long track record of high client-satisfaction, which is why we benefit from long-term relationships with our clients, referrals from past and current clients, referrals from attorneys who trust and believe in our work and a stellar reputation in the legal community.
Transparency: We communicate open and honestly with our clients in adherence to the highest standards of legal ethics and professionalism as a means of creating close attorney-client relationships and getting results for our clients that they desire, need and deserve.
Get in Touch Today
Barry Law Group is located in Encino, California, and we serve clients throughout Southern California. If you or a loved one has been injured in an accident, is in a dispute over an estate or trust, or needs legal assistance with any of our practice areas, we encourage you to contact us so we can help.