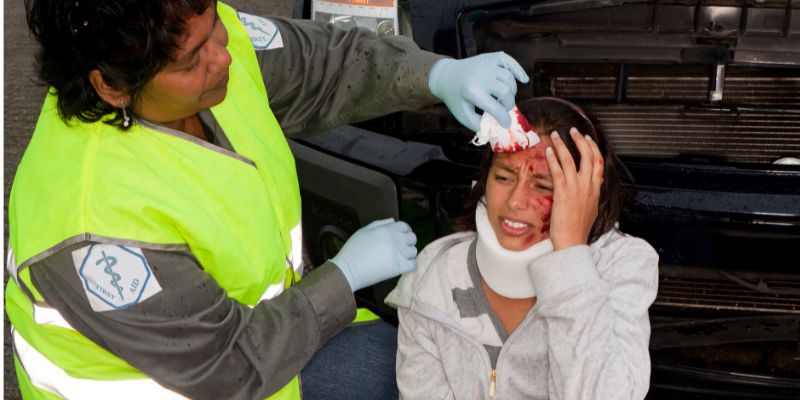 Encino Brain Injury Attorney
The human brain is capable of extraordinary things, and the latest medical research still cannot answer all the questions humanity has about the brain's many functions and processes. However, the brain is also highly vulnerable to physical injury, and any brain injury is likely to leave lasting effects on the victim. Whether you or a loved one suffered a brain injury at work or due to the actions of another party, it's crucial to know what to do when you know another party is to blame for your current situation.
Barry Law Group is a seasoned team of attorneys with years of professional experience handling all types of personal injury claims in Encino, including brain injury claims. Any brain injury is likely to cause a host of economic damages to the victim and force them into a long and difficult recovery time. When you find yourself in this situation and face an uncertain future due to the actions of another party, an Encino brain injury attorney is the best asset to have on your side as you seek compensation for your losses.
How to Recover From a Brain Injury at Work
Many people living in the Encino area and surrounding communities of California work in inherently dangerous fields like construction and manufacturing. While most people working in these capacities use specialized safety equipment to minimize their risk of work-related injuries, it is always possible for a brain injury to occur unexpectedly despite a worker's best efforts to be safe while working.
California law requires all employers to have workers' compensation coverage that comes into play whenever a work-related injury occurs. This form of insurance coverage can provide compensation for an injured worker's medical expenses and temporary disability benefits when they cannot work while they recover. However, many claimants face the same issues as they would with other types of insurance claims, with the added complication of their employers' involvement.
Your Encino brain injury attorney can be an invaluable asset when it comes to filing your workers' compensation claim. They can minimize the chances of the insurance company unfairly pushing back against your claim, and they can also help you explore your options for further legal recourse if a specific party caused your injury. A successful workers' compensation claim should yield full coverage for the claimant's medical expenses and a portion of their lost wages while they are unable to work. If they have grounds to file a civil suit against the specific party responsible for the injury in question, this can enhance their total compensation substantially.
Filing Your Personal Injury Claim for a Traumatic Brain Injury in Encino
Most personal injury claims pertain to acts of negligence or failure to use reasonable care in Encino, CA. If a specific party caused your traumatic brain injury in a car accident or any other incident resulting from their negligence, they would face full responsibility for all the economic damages they caused. Additionally, state law permits the plaintiff to seek pain and suffering compensation in proportion to the severity of their losses. There is no limit on pain and suffering compensation in most California personal injury cases.
In the event a traumatic brain injury occurred from an act of intentional and/or criminal misconduct, the defendant faces civil liability alongside criminal charges from the state. If this applies to your case, your Encino brain injury attorney can provide detailed guidance as to how the nature of the defendant's behavior could influence the outcome of your recovery efforts. For example, the judge reviewing your case may award punitive damages that further enhance your recovery to discourage the defendant from similar acts in the future.
Compensation for Your Brain Injury
California law enables the plaintiff of a traumatic brain injury case to seek the following:
Compensation for any and all medical expenses they incur until they reach maximum medical improvement: Due to the severity of most brain injuries, the plaintiff is likely to face extensive immediate medical expenses followed by long-term care costs, both of which can be recovered from the defendant.
Repayment of lost wages: The victim of a brain injury may not be able to work for an extended period, and the defendant is liable for income lost during this time. Similarly, if the defendant caused any permanent harm to the plaintiff that prevents them from returning to work, the defendant is liable for the plaintiff's lost earning power as well.
Repair or replacement costs for personal property: If a defendant damaged or destroyed the plaintiff's personal property during the event that caused their brain injury, the defendant is liable for these damages as well.
Pain and suffering compensation: When the victim of a brain injury faces a permanently diminished quality of life due to the defendant's actions, their Encino brain injury attorney can help them maximize the total compensation they obtain for the physical pain and emotional distress they experience from their actions.
If you are struggling with a brain injury or helping a loved one recover from an injury caused by another party, an Encino brain injury attorney is a critical asset for ensuring accountability and a suitable recovery. Barry Law Group has extensive professional resources we can put at your disposal throughout all your recovery efforts. When you need to file a workers' compensation claim for a brain injury suffered at work, we have gone up against the largest insurance carriers in the state and will do everything we can to ensure fair treatment and appropriate response to your claim. If you must file a personal injury case, we will seek the maximum compensation possible under state law in the most efficient manner possible.
FAQs About Encino, CA Brain Injury Law
How Do You Prove Traumatic Brain Injuries?
To succeed with any legal recourse against the party responsible for your injury, you must be ready to prove the full scope of the damage they caused. Your Encino brain injury attorney can be essential in this effort, coordinating with your medical team to gather the evidence needed to prove the full extent of your brain injury with scans and other medical reports. You must not only prove the scope of your injury but also that the defendant directly caused the injury.
How Long Will My Traumatic Brain Injury Claim Take to Conclude?
The time required to complete any personal injury case in California depends largely on the scope of the victim's damages and the defendant's willingness to accept responsibility for their actions. Once you have determined the full extent of your damages and gathered the evidence needed to prove fault, your attorney will likely move to settle your claim as quickly as possible. However, if you must resolve the case in litigation, this will take much longer to resolve.
How Much Pain and Suffering Compensation Can I Recover for a Brain Injury?
California does not limit or cap pain and suffering compensation for most brain injuries. You have the right to claim compensation for the physical pain, psychological trauma, and emotional distress the defendant inflicted on you. Since brain injuries tend to be extensively life-changing injuries, it's very likely that the pain and suffering compensation you recover will form the bulk of your total compensation. Many plaintiffs will be eligible to claim several times more than their total economic damages.
How Much Does it Cost to Hire an Encino Brain Injury Attorney?
Any plaintiff struggling with exorbitant losses from a brain injury is likely to worry about the potential cost of attorneys' fees when they must pursue legal recourse against the party responsible for their injury. The Barry Law Group accepts many personal injury cases on a contingency fee basis, so the client pays nothing until we secure compensation for their damages. Their contingency fee is a percentage of their total compensation, and they keep the rest. This ensures that legal counsel is accessible to those who need it most, regardless of their ability to pay.
Is it Worth Hiring an Encino Brian Injury Attorney?
Even if you believe that the fault for your brain injury is perfectly clear and you have a firm grasp of your claimable damages, it is always worth having legal counsel you can trust to guide you through your proceedings. If you tried to handle your case alone, you would be forced to do so while contending with your injury, and even if you manage to succeed, you could overlook valuable avenues of compensation. Barry Law Group aims to maximize each client's recovery in the most efficient manner possible.
Any brain injury can be a life-changing experience for the victim and their family. This type of injury causes not only a host of medical issues for the victim but also many financial concerns that can strain their household in various ways. Time is a critical issue in any personal injury case, so it is important to reach out to legal counsel you can trust as soon as possible. Contact Barry Law Group today and schedule your free consultation with an Encino brain injury attorney who can provide the guidance and support you need throughout your brain injury case proceedings.