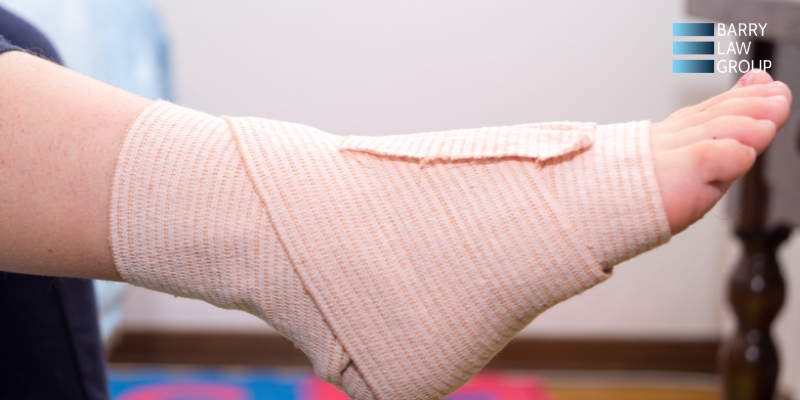 Encino Foot & Ankle Injury Attorney
Everyone working in California faces the risk of injury at work, but some people work in inherently more dangerous fields than others. Construction, manufacturing, and oil and gas industry work are just a few examples of some of the most statistically dangerous fields based on workplace injury rates and the number of missed days of work each year. However, the reality is that any workplace can potentially present hazards to all types of workers, even in seemingly safe workplaces like retail stores and offices.
Helping Injured Encino Workers Recover From Foot and Ankle Injuries
Any workplace injury can be painful and disruptive to the victim's life, but injuries to the feet and ankles are especially debilitating. If you or a loved one recently suffered this type of injury at work, an experienced Encino foot and ankle injury attorney is the best resource to have on your side if you want to maximize the results you reach in all of your recovery efforts. The workers' compensation laws of California can provide valuable reassurance after a serious workplace injury, but you may have more recovery options available to you than you initially expected.
Filing Your Workers' Compensation Claim in California
A foot and ankle injury may result from a slip and fall incident, a vehicle accident, or a victim may suffer a crushing injury from a falling object. No matter how this type of injury occurs, if the victim was performing their job duties at the time of the incident in question, they are likely covered by their employer's workers' compensation insurance policy. State law requires almost every employer in the state with at least one employee to have workers' compensation insurance coverage. An employer must create a formal incident report of any injury that occurs in their workplace and provide an injured employee with the materials needed to file their workers' compensation claim.
Filing your claim for workers' compensation benefits will be similar to the way you would file any other type of insurance claim. You will need to undergo a medical examination by a physician approved by your employer's insurance carrier, and the claim forms you receive once you report your injury should include your list of options of local workers' compensation physicians you can visit to receive your disability rating. Of course, you can see any doctor in an emergency, but a workers' compensation doctor will likely need to evaluate your condition and submit their findings to the insurance carrier before you can receive your benefits.
Benefits Available Through Workers' Compensation in Encino
Workers' compensation exists to provide peace of mind and job security to injured workers. If you are eligible to file for workers' compensation for your recent foot and/or ankle injury, you can expect the insurance company to cover all of the medical expenses you face until you reach maximum medical improvement.
FAQs
Q: What Are the Potential Long-Term Effects of a Foot and/or Ankle Injury?
A: The feet and ankles are critical for upright mobility, lifting, and performing most everyday physical tasks. While some foot and ankle injuries will heal completely with appropriate care and recovery time, any such injury can potentially cause long-term or permanent complications for the victim. In addition, some foot and ankle injuries will result in chronic pain, nerve damage, diminished strength, and increased susceptibility to future injuries.
Q: How Much Is My Foot and Ankle Injury Claim Worth?
A: If your injury occurred while working, an Encino foot and ankle injury attorney could help you file your workers' compensation claim and maximize the benefits you receive. A successful workers' compensation claim should cover your medical expenses and provide ongoing benefits while you recover. However, you could have grounds for further legal recourse that can enhance your final recovery depending on how your injury occurred. For the best chance of maximizing your compensation, speak with an Encino foot and ankle injury attorney as soon as possible after your injury.
Q: Can I File a Personal Injury Claim Against My Boss for a Workplace Injury?
A: Workers' compensation may protect workers by offering coverage for their damages after workplace injuries, but this insurance also shields employers from civil liability for these injuries. However, if an employer intentionally caused the injury in question or if the employer does not have workers' compensation insurance, the injured worker could proceed with a civil claim against them. Alternatively, if a third party caused your injury, you could file your claim for workers' compensation benefits and proceed with a third-party personal injury suit to seek compensation for the losses that workers' compensation insurance can't cover, such as your pain and suffering.
Q: How Much Does It Cost to Hire an Encino Foot and Ankle Injury Attorney?
A: The Barry Law Group has years of experience handling a wide range of workplace injury and personal injury claims on behalf of Encino-area clients. It's understandable to worry about the potential cost of hiring your attorney, but our firm does not charge legal fees to our clients unless we win their cases. With our contingency fee policy, you pay nothing upfront for our representation and owe nothing if our team fails to secure compensation for your damages. If we win your case, our fee is simply a percentage of the final case award.
Q: Can an Encino Foot and Ankle Injury Attorney Make a Difference in My Recovery?
A: The right attorney can make filing your workers' compensation claim much easier and more likely to generate the results you hope to see from your claim, and you will also be more likely to maximize the compensation you obtain for your damages. Whether you are bracing for just a difficult workers' compensation claim or intend to pursue further legal recourse with a personal injury suit, your legal team will make a tremendous difference in the quality of your overall recovery.
The Barry Law Group has helped many Encino area clients recover from extremely painful workplace injuries, including those that damage the feet and ankles. We know how debilitating these injuries can be and how frustrating it can be for anyone to face limited mobility and reduced ability to work because of an injury they did not cause. If you are ready to speak with an experienced Encino foot and ankle injury attorney about your recovery options, contact us today to schedule your free consultation with our team.