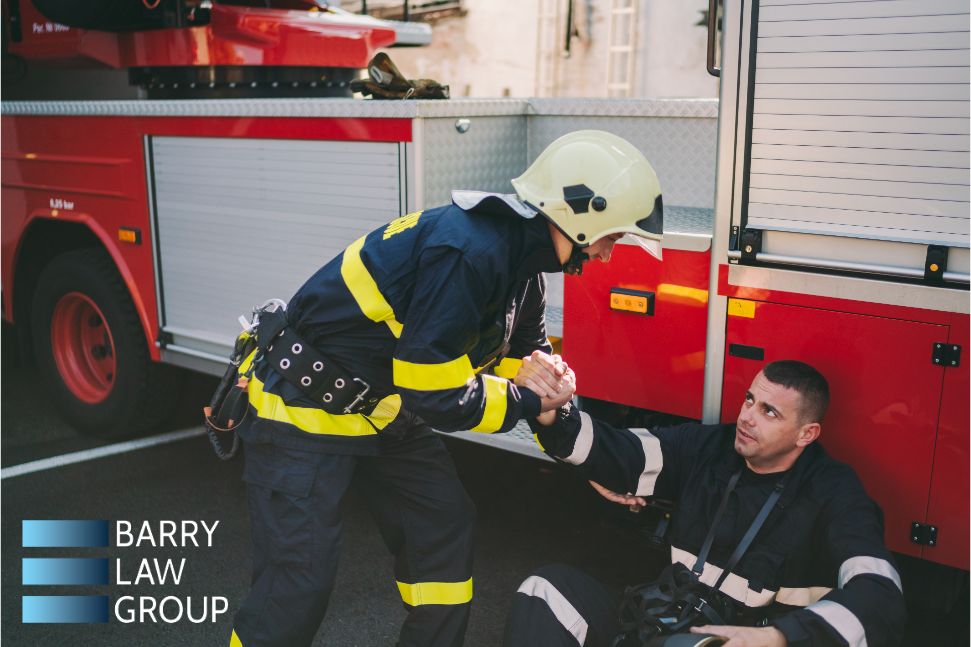 Los Angeles Firefighter Injury Attorney
When firefighters go to work on any given day, they can be exposed to a number of different hazardous conditions in addition to entering dangerous, burning buildings. In their effort to save lives, they risk their own and, too often, they are injured on the job. When this happens, they should consult a Los Angeles firefighter injury lawyer to discuss a potential workers' compensation claim.
Barry Law Group is a boutique law firm that works to protect the rights of first responders and public safety employees. Our firm has more than 30 years of experience successfully representing injured firefighters and other first responders who were hurt while on duty. Our longtime staff is committed to providing each of our clients with the highest quality of legal services available in Los Angeles.
What Are the Risks of Firefighting?
Not only do firefighters risk their own safety to ensure the safety of others, running into the danger that others are trying to escape from, but they also risk the chance of dying while performing their job. More commonly, though, firefighters are injured by occupational hazards like the following:
Falls from upper-floor levels
Injuries from explosions
Electrical burns
Exposure to high levels of heat
Lung damage due to smoke inhalation
Exposure to fire-extinguishing chemical agents
Exposure to biological agents
Vehicle accidents
Structural collapse
Because firefighters are frequently at risk when performing their everyday job duties, the chances of injury are even higher after long shifts or many years of working in these dangerous conditions. Some firefighter injuries are a result of long-term exposure to hazardous fumes and smoke inhalation. Other conditions that can develop as a result of firefighting are listed below.
Blood-borne infectious diseases
Pneumonia
Meningitis
Heart conditions
Cancer
Carcinogen-induced illnesses
California's Firefighter's Rule
When firefighters incur personal injury due to a property owner's negligence, they have the right to file a personal injury claim against the property owner. Firefighters cannot file a claim against the property owner when their negligence caused the fire that required the firefighter to perform firefighting job duties, however. This is because, as firefighters perform their job duties, they are assuming the risk of certain injuries.
Nevertheless, in recognizing the unfairness of that situation, lawmakers have made exceptions to the rule, which are described below:
The fire or cause of the firefighter's injury was the consequence of an intentional act by another party.
The injury occurred due to the negligent act of another party, who knowingly acted in an unsafe manner despite the fact that firefighters were there.
The injury occurred due to another party's negligent act unrelated to the event or act that initiated the need for the emergency responder to come on scene.
The law is somewhat ambiguous, and while it may seem like one of the above circumstances applies to your injury, that may not actually be the case. The quickest and most straightforward way to know is to consult with a firefighter accident attorney in Los Angeles, CA to discuss whether a civil personal injury claim is in order.
Other Grounds for Firefighter Workers' Comp Claims in Los Angeles
Due to the dangerous circumstances of firefighting, there are many different precautionary equipment items, clothing items, and accessories that are worn by firefighters to enhance their protection against those risks. They rely on these items and equipment to keep them safe from inherent danger.
However, these safety nets sometimes fail to provide the protection they should, leaving firefighters vulnerable and exposed to the harmful conditions of the job. Some common protective gear and clothing items that, when they fail, often result in personal injury or workers' comp claims are listed below.
Faulty oxygen/breathing apparatus/equipment
Fire suppressing foam
Personal safety equipment
Burn-preventing suit
Helmets
Hoses
Other drivers who fail to yield and cause accidents
Investigating Faulty Equipment
When new equipment arrives for firefighters, there should be inspections performed on these items, but manufacturing issues aren't typically noticeable by most observers. When equipment that is intended to keep firefighters safe fails, it often causes serious injuries or even death, putting firefighters at an even greater risk than they already are. It can make their job even more dangerous.
The experienced and discerning eye of a professional is typically needed to reveal defects in equipment design and manufacturing. In too many cases, the companies that produce safety equipment ironically try to cut corners to save time and money. In other cases, they just don't take the careful precautions necessary to ensure the functionality of their products.
Whatever the reason for their negligence, if someone is injured while relying on certain equipment to keep them safe, and their injury could have been prevented if it weren't for the carelessness of a third party, that third party could be held liable. A good firefighter injury lawyer can conduct an investigation to expose inadequate safety inspections, erroneous testing of equipment, and other reasons for malfunctioning equipment.
What Is Covered for Firefighters Under California Workers' Comp?
The California Labor Code affords firefighters and other first responders the right to workers' compensation if they are injured while performing their job duties. These benefits typically are provided to cover the costs associated with a work-related event, such as:
Medical expenses and treatment
Hospital bills
Surgery costs
Medications
Therapy
Rehabilitation for an injury or illness
They also include disability indemnity and disability retirement benefits.
Some firefighters who file a workers' compensation claim may be eligible to get 100% compensation for lost wages for up to one year. After one year, these individuals may still be eligible for regular workers' compensation, which equates to two-thirds of their pre-injury wages.
Volunteer Firefighters
Volunteer firefighters may also be eligible for workers' compensation benefits, even though they don't receive wages for their firefighting services. This is even more likely if the injuries incurred by a volunteer firefighter are significant enough to prevent the individual from performing their other "day" job.
In some instances, a volunteer firefighter who is injured while volunteer firefighting in a way that prevents them from performing their other job may be eligible for compensation for their regular employment wages.
How an Attorney Can Help You
In most cases in which the claimant was awarded a significant settlement from a third-party institution or individual, there is usually a reputable Los Angeles firefighter injury lawyer involved. Getting an ideal offer from an insurance adjuster takes skill and past case experience. A good attorney knows how to talk to the insurance company and what to say on your behalf.
Speaking to an attorney is imperative in gaining direction and insight for these cases, but even more important is reporting the incident and injury to your supervisor as soon after it happens as possible.
Without an attorney, an insurance adjuster will likely deny your claim. A claims adjustor is more likely to be intimidated by plaintiffs who have legal representation going into the case.
What Causes the Most Injuries for Firefighters?
Actual firefighting is the most dangerous act a firefighter must do to meet the job requirements of the position. There are other job duties that carry great risk, but actually fighting fire poses the most inherent danger. When firefighters are responding to a fire, they are more susceptible to:
Falling objects
Structural collapse
Dangers of forcible entry
Burns
Other situations that pose a high risk of injury to firefighters are listed below:
Search and rescue efforts
Overhaul activities
Wildfire byproducts
EMS calls, which pose their own list of inherent risks
Roadside accidents
Violent/terrorist acts
Airplane crashes
Boating catastrophes
Railway accidents
FAQs
Q: How Much Will a Workers' Comp Attorney Cost in California?
A: A workers' compensation attorney works on a contingency fee basis, which means that they only get paid if they win your settlement. If they win, they will usually take 10% to 20% of the final award as their fee. If they don't win, you pay nothing. Even though your attorney is owed a part of your settlement, the work they do can obtain a larger settlement for you than if you attempted to negotiate it yourself, so you could still receive more compensation than you would otherwise.
Q: What Is the Most Common Injury in Firefighting?
A: Contrary to what one may expect, a sprain or strain that causes muscle pain is the most commonly reported problem among firefighters. This is due to the heavy lifting and carrying of equipment in tight spaces, for long periods, and through dangerous terrain. A firefighter's job requires their body to be stressed to its limits on almost every callout.
Q: How Many Firefighter Injuries Are Reported Each Year?
A: According to the 2021 statistics in California, there were 4 injuries and 1.5 casualties for every 1,000 fires. For structure fires in residential settings, the injuries were 17 per 1,000 fires and 5.5 deaths per 1,000 fires. These numbers are slightly below the national average.
Q: What Is the Fireman's Rule in California?
A: California's Firefighter's Rule dictates the circumstances under which a firefighter may file a personal injury claim against a property owner. This can be done if their negligence contributed to the fire that was the cause of the firefighter's injury. There are some situations where it is allowed, but in most cases, the property owner is protected on the basis that the first responder assumes certain risks simply by going to work.
Hiring an Experienced Los Angeles Firefighter Injury Lawyer
If you or a loved one has been injured in the line of duty as a firefighter, Barry Law Group can help you obtain the compensation for your injuries that you rightfully deserve. Contact us today and speak with a member of our competent legal team. We can answer any questions you may have and provide you with invaluable legal advice for moving forward with your claim.