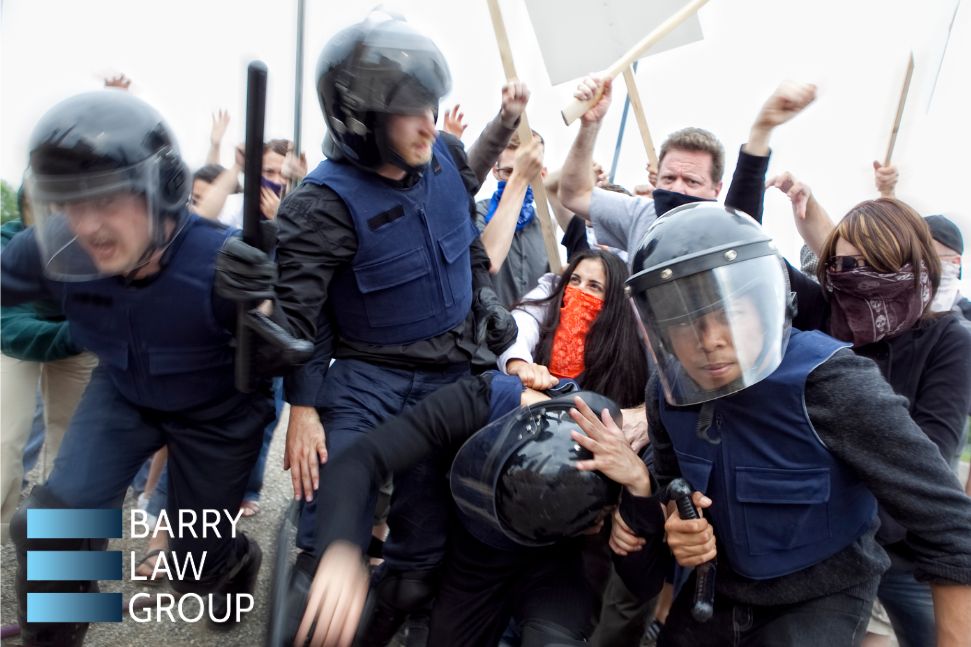 Los Angeles Police Officer Injury Attorney
When a police officer is injured on the job, they are entitled to workers' compensation under California law. If this occurs, injured public safety workers can optimize their claim by consulting with a qualified Los Angeles police officer injury lawyer. Many injured officers don't fully understand their rights and need guidance in handling their workers' compensation claims.
An experienced attorney can help injured law enforcement officers not only get the compensation they deserve but also help them apply the ever-changing State Labor Code to their case. Aside from having to deal with the actual injury itself, navigating the legal system is the most taxing part of a workplace injury, especially when you are already dealing with so much other stress and pain.
Barry Law Group: Your Los Angeles Police Officer Injury Attorneys
Since 1988, Barry Law Group has been providing high-quality legal services to injured workers in Los Angeles. Our family-owned firm is committed to zealously representing clients and successfully negotiating settlements. However, we are fully capable of litigating your case, when necessary, to passionately protect the rights of our clients.
Our firm works to:
Educate our clients.
Assess the probabilities of their case's success.
Secure a favorable settlement that fully addresses our clients' needs.
Analyze the critical cost-benefit factors of each course of action.
Litigate your case when the other side won't cooperate.
Who Qualifies for Law Enforcement Workers' Comp?
Public safety workers, including police officers, who are injured on the job qualify for workers' compensation benefits by law if they meet the following requirements:
They suffered an injury that was job-related or experienced a disease as a result of their occupation, and the injury occurred during the course of their employment.
They were on duty when the injury took place.
They notified their employer as soon as they could following the injury.
The injury did not occur due to an intentional act of the employee, the employee was not intoxicated, and the employee did not incur the injury while committing a felony.
Common Job-Related Injuries of Police Officers
There are unique and risky dangers associated with the job duties required of police officers. Therefore, there are common injuries that law enforcement officers suffer from. Some of these are listed below:
Stab wounds (e.g., cuts, lacerations, punctures)
Gunshot wounds
Traumatic brain injuries (TBIs)
Muscle strains, tears, or sprains
Bone breaks and fractures
Concussions
Spinal cord injuries
Stress and hypertension
Illness related to harmful chemical exposure
Core Benefits Available to Police Officers Through CA Workers' Compensation
The workers' compensation program in California provides compensation that covers physical, mental, and emotional work-related injuries for injured workers. This is distributed in the form of Injured on Duty (IOD) pay, according to Labor Code § 4850. 
Medical expenses for the injury and any related conditions, including hospital expenses, surgery costs, and therapy
Rehabilitation costs and long-term care
Restoration of sick leave benefits by conversion to IOD (Labor Code § 4850)
Temporary disability equaling two-thirds of their pre-injury wages, up to the maximum amount allowed by state law
Permanent disability
Death benefits for eligible surviving dependents of law enforcement officers killed in the line of duty, such as funeral expenses, lost wages, and a lump settlement
Special Benefits for Injured Police Officers
Police officers in California who are injured in the line of duty are also eligible for additional benefits under the California Labor Code. State law dictates that injured police officers who are injured on the job and cannot return to work for 30 days or more may be eligible for up to one year's full salary of the officer's wages instead of the two-thirds temporary disability benefits.
When the initial 12-month period is over, if an injured officer is still unable to work due to their work-related injury, regular temporary disability insurance benefits can be collected. It is important to have the services of a well-versed Los Angeles police officer injury lawyer to maximize the settlement you may potentially be entitled to.
How a Los Angeles Police Officer Injury Lawyer Can Help Your Case
Filing a workers' compensation claim for an injury can be a hard task. A workers' comp lawyer who has experience that is specifically focused on claims for law enforcement officers can be a significant resource in your case. Navigating the legal system alone is stressful. An attorney can handle the initial filing of a claim, but their ability to assist goes beyond this. Other ways that a Los Angeles police officer injury lawyer can be useful to an injured police officer are described below.
An attorney can be a guide throughout the process, including filling out the initial claim, ensuring that the necessary details are included, and properly submitting it.
An attorney can facilitate the receipt of the employer's response section, which must be returned within one working day to the claims administrator.
An attorney can ensure that the insurance administrator acts in a timely manner to accept or deny the claim. The insurance administrator is responsible for making a decision on behalf of the insurance company (and the employer) as to whether a claim is valid or not. A denial decision should be returned within 90 days. In some cases, an attorney can help facilitate a timely response.
An attorney can follow up with the insurance company if they deny the claim. In this case, the injured officer can challenge the decision by filing an adjudication application at the Department of Workers' Compensation office in the county of residence or workplace where the injury took place.
This can come at a time when stress is already at a dangerous level, but an attorney can initiate the legal process necessary to appeal a denied claim. Furthermore, there are important deadlines that pertain to an appeal. An attorney can ensure that you don't miss any of these important dates.
What Are Presumptive Benefits for Police Officers in California?
An employer or insurance company may challenge an officer's claim for workers' compensation based on presumptive injuries. These injuries can be questionable as to whether they are job-related. Presumptive benefits, under California law, are conditions that police officers commonly suffer from due to the nature of their occupation. These injuries are "presumed" to be job-related.
Presumptive benefits encompass injuries such as lower back injuries in officers who wear duty belts. Other injuries commonly associated with workers in the law enforcement profession are listed below. 
Heart problems
Pneumonia
Non-Hodgkin's lymphoma
Bladder cancer
Kidney cancer
Tuberculosis
HIV
Hepatitis
Meningitis
Lyme disease
When insurance adjusters try to challenge claims with presumptive injuries, it is important to have a qualified attorney who can defend the validity of your claim. An experienced Los Angeles police officer injury lawyer with a proven success record is skilled in arguing, negotiating, and litigating to get their clients the settlements they rightly deserve.
FAQs
Q: How Much Does a Los Angeles Police Officer Injury Lawyer Cost?
A: Injury attorneys work on a contingency fee once their client is awarded a settlement for their workers' compensation claim. There is no upfront fee required to hire a workers' compensation lawyer in California. Once the case is finalized, they will receive a portion of the settlement, which is typically around 10% to 20% of the awarded settlement amount.
Q: What Are the Presumptive Injuries for Police Officers?
A: Presumptive injuries named within the CA Labor Code in Sections 3212 and 3213 include: 
Pneumonia
Heart conditions
Back trouble
Cancer
Tuberculosis
MRSA
Hernias (including gastrointestinal hiatal hernias)
Bloodborne pathogens
These injuries are often caused by the work that police officers engage in and the equipment that they must use as part of their duties.
Q: What Is the American Disability Act for Police?
A: If a police officer becomes totally disabled in the line of duty, they will receive a full pension and be immediately eligible for retirement benefits, no matter their age. They are also entitled to a year's worth of full wages for the first year following their injury instead of regular temporary disability, which pays only two-thirds of the injured officer's pre-injury wages.
Q: How Much Is My Workers' Compensation Claim Worth in California?
A: The range of most workers' compensation settlements in California is from $2,000 to $20,000, and the amount that an individual receives is based on the severity of the injury. For an injury that occurred in 2023, you can expect to receive temporary disability payments of around two-thirds the amount of your average weekly wages if you made between $364 and $2,428 before your injury.
Q: How Long Does a Workers' Comp Case Take to Settle in California?
A: Workers' compensation claims in California can be settled within 30 days, in most cases, if the claim is immediately approved by the insurance company. However, many cases take at least six months to finalize, and most take anywhere between 12 and 18 months to do so. Your attorney can estimate the timeline involved for your unique case.
Speak to a Qualified Los Angeles Police Officer Injury Lawyer
If you've been injured in the line of duty, or someone you love has been injured or killed while they were on duty, you are likely entitled to compensation for the hardships you've endured as a result of this event. Barry Law Group is committed to fighting for the rights of injured police officers and their families. Contact us today for a consultation regarding your potential workers' compensation claim.